The internet is a pretty big part of our working lives these days. We use the internet often to get information about things that we are interested in. We use it to communicate with each other. We use it to entertain ourselves. We love it.
How do we describe ourselves?
That's a tricky one...
5 years ago, we'd say that we were web site designers for rock bands. Today the lines are a little more blurry.
We're not the only ones out there wanting to give people a glimpse of how to find a better way of working but we think that over the years, we've come up with some pretty cool solutions for our clients and friends. We've also got many more friends now and they aren't necessarily in rock bands.
Online technology improves constantly and people adopt it for their own uses. We like to help people do what they want to do and offer them online solutions to get them on their way.
Mostly we do what we do because we love it...
Internet Producers?
Maybe that's a little better.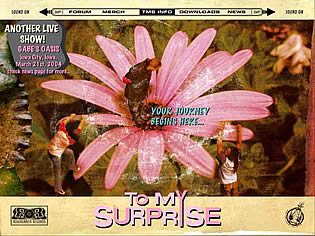 To My Surprise
Site URL:
www.tomysurprise.net
Date of work:
10/3/06
Client:
To My Surprise
Type of site:
Music
Our Role:
Website design and production
We built this site for the side project band of the Slipknot founder, Clown. We had a few phone discussions with him while he was on tour with Slipknot and he gave us a very loose idea of what he was after. He made us feel like he had alot of faith in what we'd come up with which was really nice, and that made the whole project really enjoyable.
He wanted something that people could just mess about with and get a taste of the album while they were doing it. The term he used was "a trip through a wormhole"...
So we came up with a bunch of concepts which would utilize randomness to the maximum. One thing that Clown was keen on was the number 11. The number of songs on his album, he was quite keen on this as it is also a prime number.
We came up with a set of levels, some with movement, some with buttons. The buttons, when clicked, would do random things. They would play music, soundloops or change the scenery.
We hired a Flash artist, Greg MacDonald, to set up the core Flash engine.