The internet is a pretty big part of our working lives these days. We use the internet often to get information about things that we are interested in. We use it to communicate with each other. We use it to entertain ourselves. We love it.
How do we describe ourselves?
That's a tricky one...
5 years ago, we'd say that we were web site designers for rock bands. Today the lines are a little more blurry.
We're not the only ones out there wanting to give people a glimpse of how to find a better way of working but we think that over the years, we've come up with some pretty cool solutions for our clients and friends. We've also got many more friends now and they aren't necessarily in rock bands.
Online technology improves constantly and people adopt it for their own uses. We like to help people do what they want to do and offer them online solutions to get them on their way.
Mostly we do what we do because we love it...
Internet Producers?
Maybe that's a little better.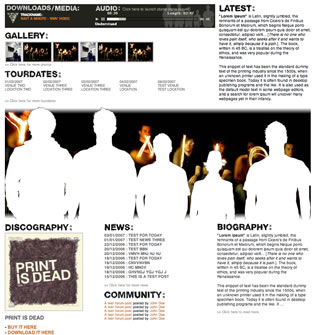 YOURCODENAMEIS:MILO
Site URL:
www.yourcodenameismilo.com
Date of work:
8/1/07
Client:
YOURCODENAMEIS:MILO
Type of site:
Music
Our Role:
Website design and production
Another band website on a very limited budget (aren't they all...), we spent our time (and their money) working on making a CMS where the band and record company could update all the crucial content. The band asked for "More text, less Flash" and seeing as that is one of our specialities, what we came up with kinda exceeded their budget, but we think they'll get a lot of use and value out of it.
We made it so that the front page packs in as much up to date content as possible so that the viewer can see everything at a glance, linking to the detailed content in the supporting pages. Kinda like a tidier, simpler version of MySpace but without the Web2.0ô jizpokery.
We added a simple Flash MP3 player so that the label could preview new tracks off their latest album, all administrable through the CMS.
That's what we like to do, make a whole updatable site and then let the band get on with it. Power to the people!