We like to help as many people as we can. We love to meet as many people as we can. Here is a list of types of individuals that we currently help and it is by no means definitive, exclusive or whatever:
- Bands.
Rock bands, pop bands, techno bands. So far, no rubber bands.
- Music management people.
These are busy people looking after the needs of bands 24/7. They absolutely rely on e-mail to organise their affairs. I'll say it again. They absolutely rely on e-mail to organise their affairs.
- Tour management people.
These people are the ones who travel the globe, organising every minute of a band's life while they are on tour. They also rely on e-mail but they have an added complication. They find themselves in a different place, city or country every day. Someday they will find themselves on a different planet. Even then, they will want to make sure that they can get their e-mail there.
- Marketing people.
Marketing people spend their lives getting the public to notice the products that they want you to. If we are all using the internet, marketing people will be interested in what we look at, when we look at it and how we look at it. And then try and find new things for us to look at.
- Record company people.
Record companies face an enormous challenge as new technology shifts the way that the public aquire their music, movies, TV and fashion. As the public continue to use the internet as their source of information and entertainment it will continue to be a great way for record companies to tell the world about their acts.
- Music publishing people.
These are the people who make sure that the song writers get paid for their endeavours, done of course for your listening pleasure. As the traditional methods of delivering music to your ears are eroded, record companies' interests will shift to be more like these people.
- Merchandising people.
As we all get used to the idea of shopping online we will be buying more stuff from these people. Online shops rarely close and you never need to meet the shop staff for them to help you with your purchase. Quite possibly, the person that you buy your next band t-shirt from has not shaved for 2 weeks, and may be naked. Who's to know?
- Photographer people.
What a glamorous world that is! A great thing that we can say about them is that they give us cool images to make great websites out of. We love making on-line portfolios for photographers.
- Fashion people.
Another glamorous vocation! Fashion's fantastic. Music influences fashion, fashion influences music. What a viscious circle that is... A web site is a fantastic way to show of your brand and even sale your wares.
- Computer people.
Every once in a while, most people need help with their computers. Being computer geeks ourselves we endeavour to help those in a computer crisis. We offer Apple Macintosh support to small companies and freelancers.
We're always looking to help other types of business and individuals. If you like the sound of us, please get in touch!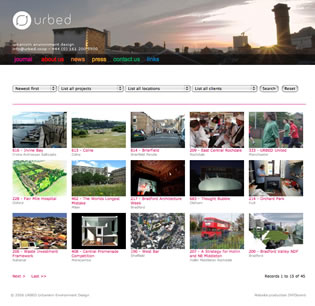 Urbed
Site URL:
www.urbed.coop
Date of work:
7/11/06
Client:
Urbed
Type of site:
Urban development
Our Role:
Website design and production
Urbed.coop
is an urban planning cooperative based in Manchester. They approached us to redesign their website after their company underwent an organization change.
Our role was to create a content management system and deliver this content to a rough template so that one of their staff could style the finished site.
The site functions as an archive of all their projects and each project is displayed as a case study. A comprehensive search menu enables the viewer to browse all the entries in 4 variables, all listed by a set of dropdown menus. Each case study is complimented by downloadable support documents and any related news items. There is also a comprehensive guide to all past and present staff members plus downloadable CVs for each.