We're always available and ready to help you out. Even if it's just a simple question, we'd like to hear from you. When's the right time to set yourself up with a custom internet presence? Gosh, if you haven't done so already, what are you waiting for?
"You seem to mostly do music stuff and that's nothing to do with my business."
That doesn't bother us. Our approach to online stuff can equally be applied to many business types and individuals.
"It's too expensive"
Some online solutions are, sure. But it doesn't have to be. If you are starting out, it's sensible to start out small. Solutions can be produced to be scalable so that you can grow as you learn what it's all about. Start small, aim high. retain control.
"My business is too small to need a web site."
You might feel that is the case but the way that you see yourself and how others see you can be two different things. We can advise you on how an online presence can elevate your customers' impression of your business.
"I don't know anything about all this internet stuff."
That's why we are here, to guide and help you.
"We don't need it."
We're not going to go out of our way to convince anyone to do something that they don't want to do but when you're ready for advice on how having a web site can benefit your business, just let us know.
Whatever's holding you from joining our world, we'd love to hear from you. Your solution might be simpler than you think!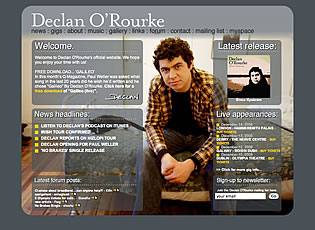 Declan O'Rourke
Site URL:
www.declanorourke.com
Date of work:
5/5/06
Client:
V2 Records
Type of site:
Music
Our Role:
Website design and production
Declan O'Rourke contacted us through V2 Records with whom we've done some work for other bands.
We built a content management system and designed the website around a set of 4 promo photos. Selected sections of background images randomly load these images to keep the look of the site slightly different each time. We also set the site up with a messageboard which matches the look of the site, importing all the users and content from his previous website.