We design and produce web sites.
All types. Big or small. Simple or complex. Whatever suits your purpose.
We fix web sites.
Got a site already that you are unhappy with? We can update, refit or reskin your site. Or however else you'd like to call it.
We host web sites.
If you find the whole concept of setting yourself up with a domain name a little daunting we can help you. Personally.
We do video.
We encode video and offer hosting and streaming advice.
We offer eCommerce advice.
Looking to sell stuff online? We can point you in the right direction and can offer advice to help you if you are starting out or looking for something better.
We build online shops.
We can build you anything from a simple Paypal system to an all singing and dancing credit card system.
We handle data capture mailing lists.
We can also advise you on current data capture requirements and how to stay on the right side of the law for the UK data protection act.
We help you get a return on your content.
You spend a lot of money and/or time on producing special content on your site? You might want to see some kind of a return on that. We can build simple solutions which can garnish data capture or payment from your subscribers.
We build communities.
We've got a bunch of goodies that we can set up for your site to keep your viewers happy. Anything from message boards to exclusive members areas on your site. We'll find a way to make your audience happy.
We help you help yourself.
Whatever your needs, we add areas on your site that you can maintain yourself. A direct line to your audience.
We like mobile phones.
We can advise and offer you ways to use SMS services to your advantage, anything from ring tones to assimilating text-back access features on your web site.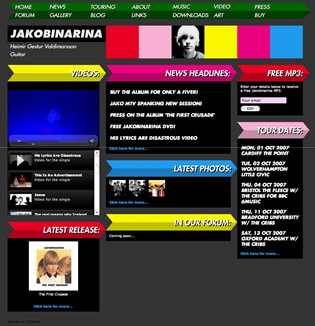 Jakobinarina
Site URL:
www.jakobinarina.com
Date of work:
2/10/07
Client:
Jakobinarina
Type of site:
Music
Our Role:
Website design and production
After many stops and starts, this site has finally been put live with the release of their debut album. Using limited assets and the existing EMI content management system, the site still has a few areas that need ironing out.
The band wanted a bright and colourful site with areas of dark in it, kinda messy but very clean and simple. We think we came up with a great design despite somewhat contradictory instructions...
This was the first site we have set up with the EMI CMS and we had to do a bit of learning throughout but we'll be better equiped the next time!