We design and produce web sites.
All types. Big or small. Simple or complex. Whatever suits your purpose.
We fix web sites.
Got a site already that you are unhappy with? We can update, refit or reskin your site. Or however else you'd like to call it.
We host web sites.
If you find the whole concept of setting yourself up with a domain name a little daunting we can help you. Personally.
We do video.
We encode video and offer hosting and streaming advice.
We offer eCommerce advice.
Looking to sell stuff online? We can point you in the right direction and can offer advice to help you if you are starting out or looking for something better.
We build online shops.
We can build you anything from a simple Paypal system to an all singing and dancing credit card system.
We handle data capture mailing lists.
We can also advise you on current data capture requirements and how to stay on the right side of the law for the UK data protection act.
We help you get a return on your content.
You spend a lot of money and/or time on producing special content on your site? You might want to see some kind of a return on that. We can build simple solutions which can garnish data capture or payment from your subscribers.
We build communities.
We've got a bunch of goodies that we can set up for your site to keep your viewers happy. Anything from message boards to exclusive members areas on your site. We'll find a way to make your audience happy.
We help you help yourself.
Whatever your needs, we add areas on your site that you can maintain yourself. A direct line to your audience.
We like mobile phones.
We can advise and offer you ways to use SMS services to your advantage, anything from ring tones to assimilating text-back access features on your web site.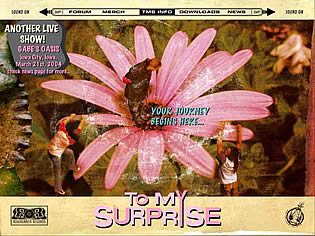 To My Surprise
Site URL:
www.tomysurprise.net
Date of work:
10/3/06
Client:
To My Surprise
Type of site:
Music
Our Role:
Website design and production
We built this site for the side project band of the Slipknot founder, Clown. We had a few phone discussions with him while he was on tour with Slipknot and he gave us a very loose idea of what he was after. He made us feel like he had alot of faith in what we'd come up with which was really nice, and that made the whole project really enjoyable.
He wanted something that people could just mess about with and get a taste of the album while they were doing it. The term he used was "a trip through a wormhole"...
So we came up with a bunch of concepts which would utilize randomness to the maximum. One thing that Clown was keen on was the number 11. The number of songs on his album, he was quite keen on this as it is also a prime number.
We came up with a set of levels, some with movement, some with buttons. The buttons, when clicked, would do random things. They would play music, soundloops or change the scenery.
We hired a Flash artist, Greg MacDonald, to set up the core Flash engine.