Get in touch with us for information on any of our projects and for ideas on how we can help you with yours.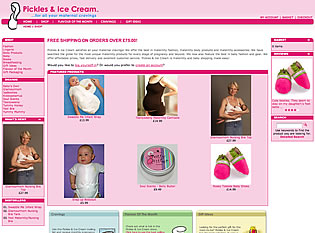 Pickles and Ice Cream
Site URL:
www.picklesandicecream.co.uk
Date of work:
25/10/05
Client:
Pickles and Ice Cream
Type of site:
Online Retail
Our Role:
Implementing shop and payment system
This is an online shop for a maternity retail business. The initial branding design was put together by another agency who became too busy to finish the brief so we wer called in to complete the project.
OSCommerce
was chosen as the shopping cart system as it is a superb bit of open source code and we had successfully used it for another shop that we had set up. We gave the client a full demo of this existing shop and they felt it satisfied all their requirements. We took the existing branding and skinned the OSCommerce to suit it.
The payment module chosen was
WorldPay
. The research carried out by the Pickles and Ice Cream team found that they had a pretty good rate per sale and more importantly for this new venture, a low set-up cost. The aim was also to re-evaluate this after 1 year.
One core add-on we implemented to the OSCommerce system was to add a "Featured" section to the admin database so that they could feature specific items on their homepage of their shop.